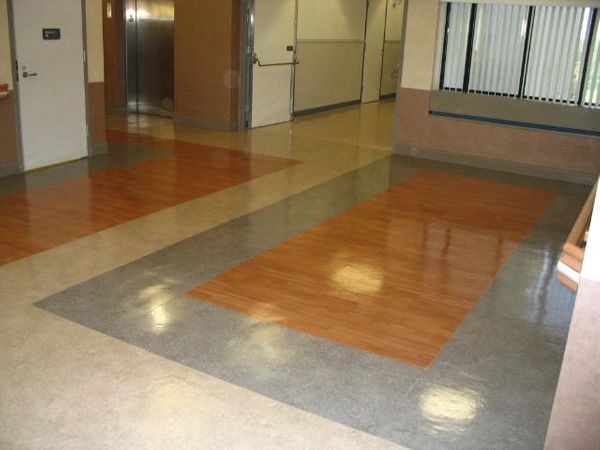 Vinyl products are widely used in schools, hospitals, offices and public buildings.
Vinyl composition tile (VCT) are composed of colored vinyl chips formed by heat and pressure. The tiles are 1/8″thick and 12″squares. VCT is favored over other kinds of flooring materials in high-traffic areas because of its low cost, durability and ease of maintenance.
Luxury vinyl tile (LVT) are vinyl tiles that very closely resemble wood, stone, terrazzo and concrete. The manufacturers achieve remarkable realism by combining the latest advances in technology, imaging, texturing and finishing.
Vinyl sheet flooring is solid in varying widths and features different backings. Vinyl sheet flooring is made from layers. Sheet vinyl comes in many patterns and styles. The lack of seams is the benefit to vinyl sheet flooring. The seams can be either heat welded or mechanically welded.
Vinyl plank can look so realistic that it's hard to tell it apart from real wood. Vinyl planks have two major advantage over hardwood. It's less expensive and it's waterproof.
Benefits
Requires minimum upkeep
Contains high percentages of recycled content
Cushy enough to be easy on backs and knees
Warmer underfoot than tile and stone
Easily cut and assembled into colorful and decorative patterns
High resilience to abrasion and impact damage
Can be repeatedly refinished with chemical strippers and mechanical buffing
Vinyl is waterproof (however the adhesive is not)