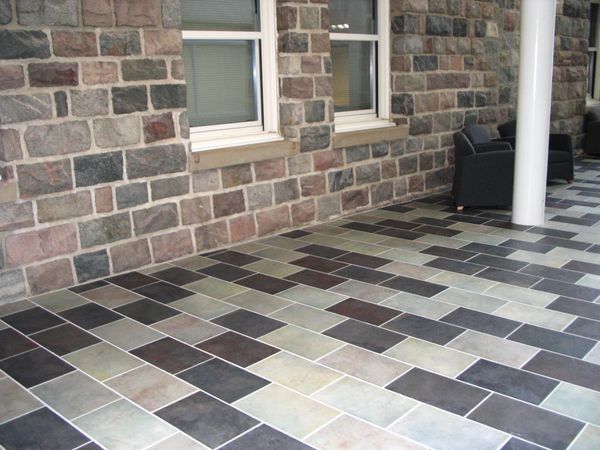 Choosing the correct tile depends highly on its intended use. Aesthetics and cost are important elements to consider, but traffic levels and moisture levels should also be considered. Tile comes in many colors, sizes, shapes, thicknesses and surfaces. Tile can be installed in different patterns and accents can easily be introduced to create certain looks.
Glazed Ceramic Tile varies in appearance, durability, and hardness is offered with glazed ceramic tile- important features that should be taken into consideration. The wide range of shapes and colors found in ceramic tiles will enable you to customize any entryway, corridor, bathroom or kitchen.
Porcelain tile is a special type of ceramic tile known to be water/stain resistant, durable in high wear areas, and impermeable in most everyday uses. Because porcelain is easily maintained and offered in a large selection of colors, shapes, and sizes, this tile is ideal for entryways, corridors, bathroom and kitchen floors and walls.
Quarry tile is a very durable and affordable product that is characterized by its natural resistance to slipping, chipping, and scratching. A more traditional product that has been around for hundreds of years, the tiles are made from natural clay that is pressed and then fired. Due to the affordability and use in high foot traffic areas or commercial settings, quarry tile is typically used in entryways and kitchen floors."
Natural stone tile is made from granite, slate, marble, limestone, or travertine. The unique properties of these stones require proper upkeep to maintain the desired finish. The traits of each stone should be discussed with our experts to help decide which material should be used for your specific situation. A certain look and feel can be acquired with proper use of the correct tile. Because most of the natural stone tiles are imported, the price ranges can vary depending on what look you desire. Many common uses for natural stone tile include entryway and corridor floors and walls.